How To Decorate A Small Space Artfully
A small home is a happy home! It requires less of your time, energy, and effort. But decorating it sometimes can be a task. So here we are to your rescue with these 10 clever tricks that will maximize every square inch of your abode making it look super stylish!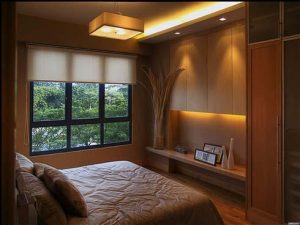 1.      Bold, Bright and Bulky: Radiant shades, brave patterns and bulky furniture can work unexpectedly well in a small space. Large items will make your space feel bigger and bold wallpapers will give definition to your walls.
 2.      Space Up: If you've opted for tall furniture, it might make your ceiling look lower that it actually is. To avoid this make sure there is plenty of space in-between your furniture pieces. Using portable ones can be a good option too as they can be tucked away when you don't need them.
 3.     Mirror, Mirror On The Wall: The bigger the mirror, the better. A mirror can make your room look larger if used correctly. Mirrors give the illusion of depth; they reflect light and make the room look brighter.
4.      Lighting: Lighting is an important aspect in opening up a space. When natural light flows freely inside your room, it opens up the interiors and makes the room look larger. Lamps too can bring in an unusual color and focus attention.
5.      Large Windows: Large windows do not limit your space and they tend to connect your room to the outdoors instantly. Make sure your window coverings are pulled back so that there is free flow of light into your room.
6.      The Brilliant Bookcase: In terms of both decor and storage, book cases hold so much! They are small space saviors and when it comes to artful storage, nothing is better than them! Sprinkle your bookshelves with cute little bins to store snaps or jewels.
7.      The Colorful Carpet: Divide your room into separate sections —hall, dining, office, and kitchen using differently colored rugs. This will help make your home look spacious and roomy.
8.      Memory Maker: Family photos instill a small space with warmth and love. But you have to keep in mind not to cove your walls with a lot of pictures. One large painting or picture works better than a collage.
9.      Clear The Clutter: When you have a cluttered home, it's hard to de-stress. With things neatly arranged, your home will feel orderly and open.
10.  Create A Focal Point: If there is a lot to look at, everything screaming for attention, it can make the room feel hectic and packed. It is very important to create a focal point, a feature that will be the center of attraction. For example- In the living room the focal point could be your sofa. That focal point needs to be made the hero of that space. Arrange furniture in such a way that focus is drawn to that area, and keep rest of the décor to a minimum.
So go ahead follow these simple tricks and make your home look stylish and spacious.