Get Preppin' – Diwali Is Almost Here!
Diwali, for most Indians, is an excuse for an annual home makeover. With the festival of lights just around the corner, how many of us have had the time to plan a complete overhaul? The answer is very few! For those of us with not much time and a tight budget, here are FIVE quick yet smart shortcuts to refurbish your home.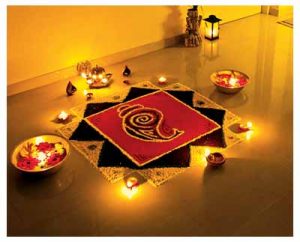 1) The first step for Diwali cleaning is to get rid of stuff that is occupying unnecessary space in your house. Broken gadgets, faded clothes, torn shoes, broken crockery and the likes. Donate the items to the needy.
2) Let the sun see your stuff. All formal clothes can be kept in the bright hot sun to get rid of the smell of Monsoon moisture. Rearrange the shelves in such a way that everything can be found easily.
3) Tidying the kitchen can be the most tedious part of Diwali cleaning. Remove utensils and wash the trolleys then move on to the shelves. Divide the task into two days if it gets too overwhelming.
4) Wash the curtains. If you do not have the time, take help of a laundry man. Sofas also need time-to-time cleaning. You can hire a professional for the same or do it with a vacuum cleaner.
5)The most pristine area of your home is the pooja room. Make sure the 'Mandir' is free of oil stains which tend to spill when lighting the lamp. Also remove dried out flowers or remains of incense sticks if any.
Once all this is done, you can decorate your home with diyas. Let the brightness of this auspicious occasion light up your lives for the coming year!