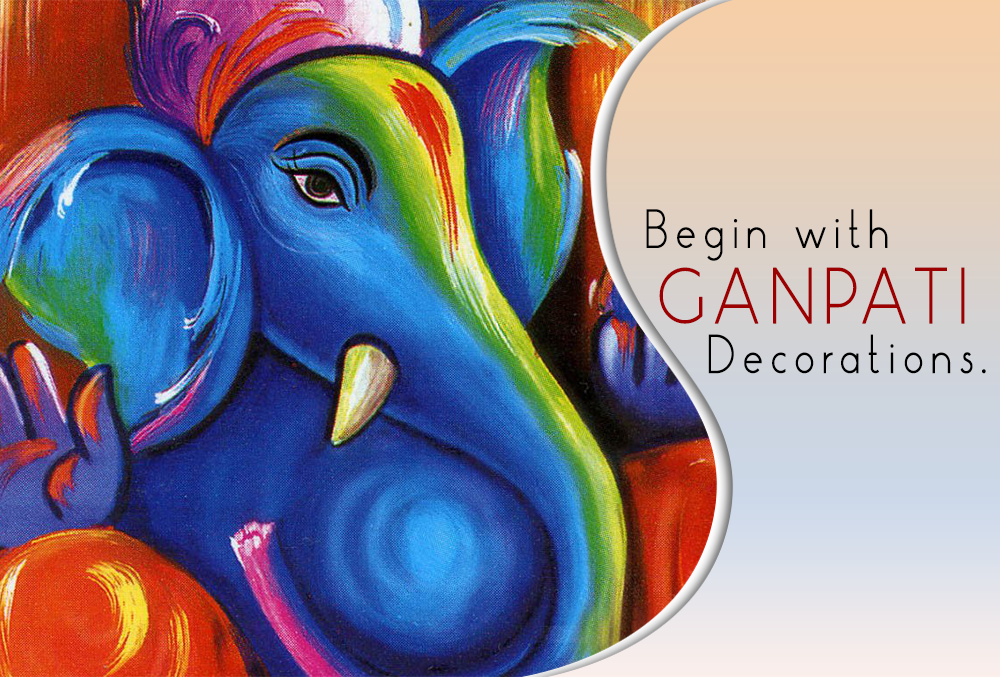 Ganesha festival is synonymous to decorations at home that are specially done to welcome the lord. One searches and looks for different ideas to decorate our homes. Sometimes we simply buy readily available options while sometimes one starts from scratch to make decorations.
We put forth a few ideas which can come handy to you as you begin with decorations,
Using Thermocol sheets & pillars: 
Thermocol sheets are very famous and most commonly used for Ganpati decorations to build small temples or mandaps. Available in different sizes and shapes they can be easily fitted and assembled. They can also be painted with vibrant colours.
Decorative lights & lamps:
Lights and lamps play a major role when it comes to decorations. Lights not only brighten the decorated corner but also become a part of the décor. Colorful lights are used a lot to add an effect to the decorations.
Fresh Flowers:
Flowers like orchids and lilies are regularly used for Ganesha decorations, arcs made of fresh flowers are ideal for decorations that would be lasting for 2 days. Fresh flowers add vibrancy to the décor and bring great freshness and fragrance.
Coloured Fabrics:
Coloured fabrics can be merged with other decorative elements to add colour and elegance to the décor. Net and shimmer fabrics usually make for a nice backdrop when pleated well.  Lights and fabrics usually make a good combination.
Rangolis:
Rangoli designs have always been a part of Indian festivals. It makes the surroundings so colorful giving everyone the feel of festival. Rangolis can be made with fresh flowers or coloured powder. A beautiful rangoli can certainly bring in positivity in the room.
We hope these tips and tricks can help you while you decorate the special corner in your home to welcome the lord. Don't forget to share your Ganesha decoration pictures on our facebook page.